We are traveling on the night train Tallinn – Moscow to play two concerts at the Avant Garde Autumn Festival. I have traveled along that same route as a child – one month before the collapse of The Soviet Union, in July 1992. My family was planning to escape the Soviet regime and enter The US through New York City gateway as tourists. I have some vague memories of sleeping on the rain and spending one very grey day in Moscow. It was absolutely grey, at least this memory is (luckily the escape was not successful and we ended up flying back across the Atlantic. But that's another story). Kalle has traveled that route many times and in addition to Tallinn – Moscow he has also taken the Helsinki – Moscow route.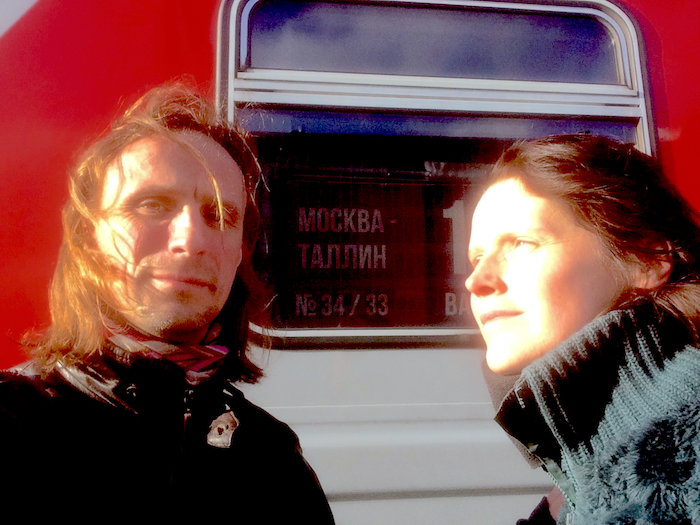 sO, we get on the train armed with a bottle of wine, some brie cheese nice & melted + also carrying Ringhold's favourite jar of gigantic green olives stuffed with piri-piri peppers. The protocol is to first have some brie, after which goes one olive and then wine. The train has been moving for some time until we really notice how almost empty the it is. It does not stop before Tapa station – here we witness one man exit the train & nobody enter. At one point we find ourselves wondering if this train & ourselves on it aren't in some kind of other space and other time fracture – the train reaches Narva – nobody enters. After crossing the Narva river we arrive at Ivangorod station – the first station after crossing the Narva river to Russia. Finally, once in Russia people traveling to Moscow start infiltrating our mystery train. Traveling through Russia we again enter a state of not knowing – are we really in Russia? who will confirm? – we only see our own reflections upon the window and the new day arrives just in time as we are approaching Moscow suburbs – so we can't really claim with certainty that the route to Moscow has been what we think. Once in Moscow, the new day welcomes us with pure October sunshine – not at all what i remember Moscow to be in July of 1992.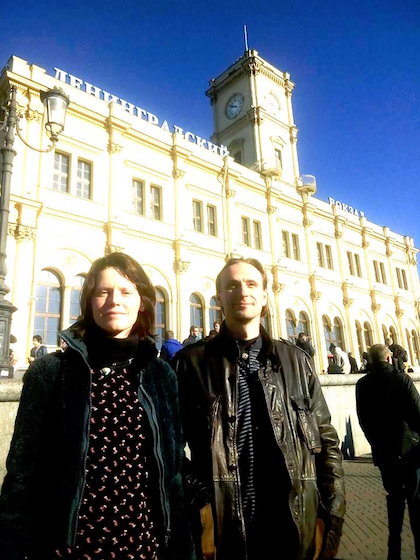 Our friend and musician, Igor Kolesov meets us at the Leningradsky station and shows us the way through the worm holes of the Moscow subway. Our hostel is in the area of the Chistye Prudy and from here we start to carve our paths through the streets. At six we arrive for soundcheck at DOM – a venue for experimental & improvised music. Kalle has played at this club with his prog rock trio BF in 2008. We have a surprise at DOM as Moscow art students are at the venue filling walls with posters they have designed of Ringhold and two other local groups playing at DOM tonight – ЮРИЙ ЯРЕМЧУК, ГУРАМ МАЧАВАРИАНИ ja НИКИТА ОЛЕЙНИК & trio УЖЕ ВСЁ ХОРОШО. Later tonight we have a great pleasure to hear them play. It's great to have places like DOM that gather people to listen MORE.
Day two of our Moscow adventure has set – we have most of this day to ourselves. After having breakfast at our newly found favourite spot we hit the subway that takes us straight to the Museum Of Cosmonautics. One more out of this world experience during this trip – what is true & what is fiction among the museum exhibits? Who is to say? At one point we get suspicious of two men seemingly following us at the museum – maybe we are examining the exhibits too closely? Discussing what we see in obvious detail? We start taking even slower paces and let our rational minds realise they are simple museum staff just accidentally walking in our foot steps. After couple of hours we exit the museum and decide to test the famous mono rail of Moscow – and exit at the next stop – as it is too hot, too sticky and too slow. There is one more place we want to go and see today – Moscow Rizhsky railway station (last night after the concert at DOM Igor told us how some years ago this station was almost demolished (as it only hosts one route, Moscow – Riga) and how through some miracle it is still standing. sO, we go there today. In order to enter the Rizhsky station we have to pass through a security gate. It has been renovated and over half of the station is for passengers with tickets, so there is not much to see on the inside. Before exiting we notice a small store for Russian Orthodox sacred supplies. It's really tiny, with an old and also tiny lady working there. When we enter the store she is just about welcoming two elderly men for tea and pirogy in front of a small altar. We buy a couple of cards with saints on them and incense candles and exit the Moscow Rizhsky railway station.
As the evening sets we make our way to Massolit – an underground & off any kind of listings venue (our favourite ones). We get to try some curious beers and there is also a very special guy in his very special room and he will make for Kalle his first ever cup of Turkish coffee – that is, coffee mixed with cold water and then slowly heated in hot sand. The concerts that night hold some great energy as Spies Boys – a free jazz funky experimental improvised duo consisting of Igor Kolesov on keys and Nikolay Nebogatov behind drums – take us on and lead to experience the moment. Later Ringhold gets on stage to give a response and add to The Boys. After the show I get to meet Alex Gusev (poet and front man for duo Zero Dice) – Kalle has heard Zero Dice live in Tallinn, so he already knows Alex. When this evening ends at Massolit Alex offers us a midnight guided tour – appears that besides being a poet in Moscow, Alex also knows about houses and corners of Moscow – as Ringhold loves houses and corners we accept. Alex has us choose between the KGB house and the Georgian quarter – we choose the last one and receive a lovely insight into the history of that part of Moscow. Toward the morning hours we sink into some well deserved sleep and wake up to the final day of Moscow this time. A quick stop at our favourite spot for breakfast and we have two destinations today – firstly we have to pass by the Red Square (I have not been there and have to see if it really exists) after which we head to the Aptekarsky Ogorod Botanical Garden to meet Igor with his family. Botanic gardens are for us always among the favourite places to visit in big cities – this time it is an autumny english garden with a huge exposition of pumpkins in plenty of colours and sizes to brake on through. After this experience our movement becomes more focused and we end up at the Leningradsky station where Igor has joined to see us off. Once more we find our beds in the open compartment of the night train, that will take us back to Tallinn. This time the train is packed from the beginning & empty again once we have reached Estonia. Most of our route from Moscow through Russia is once more passing through darkness with our faces staring back at us as we try to look out of the windows. On Sunday morning Narva station welcomes us back. The train stops for over an hour here – we spent most of that hour looking through the window and wondering why is one man digging a hole with a shuffle through rubble on a Sunday morning. He is not wearing clothes to indicate he is a construction worker – he is actually almost wearing a suite. We wonder if he is digging to prove the earth is round. We hope that he finds what he is looking for and will sleep calmly for the rest of the Sunday mornings of his life. We do not witness the outcome of that strange digging process as the train starts to move and very soon Ringhold arrives in Tallinn, exits an empty train and vanishes into the unknown.